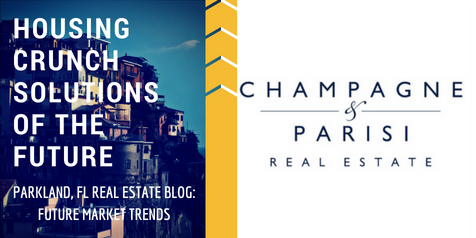 Parkland, FL and surrounding areas of South Florida are not immune to at least one outfall from what the New York Times calls "the great American single-family home problem": the looming shortage in affordable places to live. What might seem to be mostly a distant challenge for faraway metropolitan areas could eventually affect communities in Parkland, FL as well. Areas where today "low-density living is treated as sacrosanct" may well come to experience varying degrees of change.
Ground Zero. California is (as usual) Ground Zero for what may become a more widespread housing trend. It's already an extreme example of an affordable housing crunch, with the state's median home price currently over $500,000. That's more than twice the national average, but, as we've often seen, where California goes, the rest of the nation often follows.
Extreme Example. The economics of rising housing prices can eventually force shifts in local thinking. The Times points to areas where housing costs are so high that local employers say, "the young people that we want to hire can't even afford a car." One Texas firm bought a private jet to ferry company lawyers to service Bay Area clients. It was cheaper than paying local lawyers because they have to charge enough to offset local housing costs.
...