Housing Crunch Solutions of the Future
Posted by Stephanie Kukich on Friday, July 6, 2018 at 3:57 PM
By Stephanie Kukich / July 6, 2018
Comment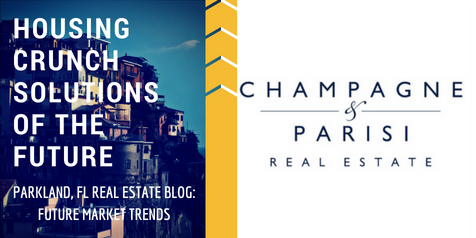 Parkland, FL and surrounding areas of South Florida are not immune to at least one outfall from what the New York Times calls "the great American single-family home problem": the looming shortage in affordable places to live. What might seem to be mostly a distant challenge for faraway metropolitan areas could eventually affect communities in Parkland, FL as well. Areas where today "low-density living is treated as sacrosanct" may well come to experience varying degrees of change.
Ground Zero. California is (as usual) Ground Zero for what may become a more widespread housing trend. It's already an extreme example of an affordable housing crunch, with the state's median home price currently over $500,000. That's more than twice the national average, but, as we've often seen, where California goes, the rest of the nation often follows.
Extreme Example. The economics of rising housing prices can eventually force shifts in local thinking. The Times points to areas where housing costs are so high that local employers say, "the young people that we want to hire can't even afford a car." One Texas firm bought a private jet to ferry company lawyers to service Bay Area clients. It was cheaper than paying local lawyers because they have to charge enough to offset local housing costs.
Sci-Fi Solutions You don't have to be a science fiction writer to foresee a future with huge incentives for anyone who comes up with new, innovative ways to lower the price of housing. Two directions already in play:
•

One that's been touched on before is large-scale 3D printing of houses. This possible solution requires giant mobile 3D printing machines which are currently being perfected. You need only Google "large 3D printers" to see videos of prototype houses that have been produced. Examples can cost as little as $4,000 to build, but they don't address the cost of land issue.
•

One developer in California is already implementing a Henry Ford-meets-Legoland high-tech solution to address the housing crunch: an assembly line for individual apartments. The resulting prefabricated units can be trucked to a site and bolted together, similar to how Legos are interconnected to build larger structures. If this sounds too much like science fiction, it isn't—there is already a 250,000 square foot plant in Vallejo, CA churning out what may end up being "the future of multi-family housing."
Keeping abreast of today's actual Parkland real estate market results is more to the point when you are planning to buy or sell your own home—but prudent Parkland homeowners and investors know the value of keeping an eye on what's over the horizon, too. Please feel free to give us a call at 561-544-7004 to discuss this summer's current Parkland real estate opportunities or for a free market analysis of your Parkland, FL home!